---
Coaster Sets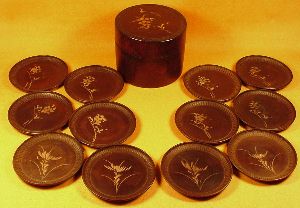 The most common form in which we find these boxes is in coaster sets.

In Japan, most cups used to hold hot beverages such as tea or sake, don't have handles. Therefore, a gracious host will use a coaster to serve a hot beverage to a guest, giving him something to hold onto which is not too hot.

Most coaster sets consist of a cylindrical box which is designed to contain a stack of thin coasters. Typically, the detailed design on the lid of the box is repeated, in less detail, on each of the coasters.
---
Dresser Boxes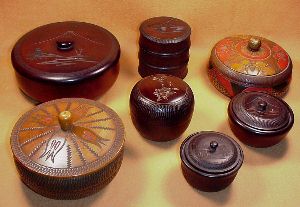 Sometimes, dresser boxes are called powder boxes or trinket boxes. Ranging between 2 and 6 inches in diameter, they are versatile.

We have them all over our home, holding everything from buttons to feathers.
---
Trays and Dishes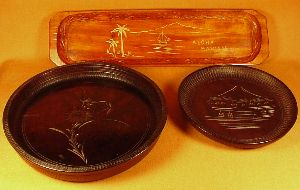 Here are some decorative trays and dishes.

The oblong "Aloha Hawaii" tray came to us with a stack of "Aloha" coasters. It is 14&frac12 by 3&frac12 inches.

The round tray on the left is 8&frac12 inches in diameter. The one on the right is 6&frac12 inches in diameter.
---
Hair Receivers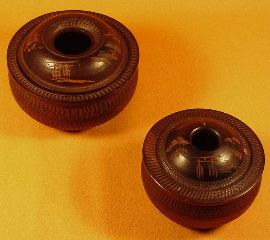 The two boxes on the left, 3 inches and 3&frac12 inches in diameter, are called hair receivers. Apparently, people used to save the hair which came out while they were brushing. The hole in the top was presumably used to make deposits. The lid comes off for withdrawals.

The hair would be used for braiding projects. There are still craftsman working with hair today. Click here for an interesting peek a what can be done with hair.
---
Collar Box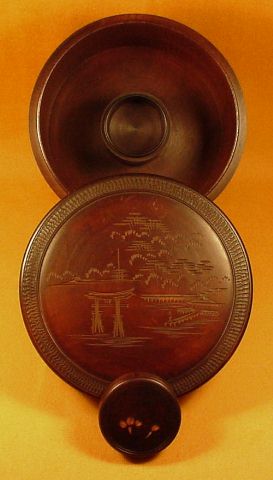 This elaborate affair to the right is a collar box. It consists of a box within a box, all made out of a single piece of wood. The dimensions of the outer box are 6&frac12 inches in diameter by 5 inches tall. The inner box is 2&frac14 inches in diameter by 2&frac12 inches tall.

The donut shaped space around the inner box is meant to hold a gentleman's detachable collars. The inner box, with its own lid and a raised bottom, is just the right size to hold the studs used to attach the collar to the shirt.

We aren't sure when detachable collars went out of use. If anyone can shed some light on this, please let us know by Email.
---
"Uniquities"
The items shown on the page above are typical of the genre. We have seen multiple examples of each of them.

Occasionally, we come across unique items or sets of items which clearly belong in the genre, but which are hard to classify.

You may wish to visit our collection of "uniquities".