~~SOLD~~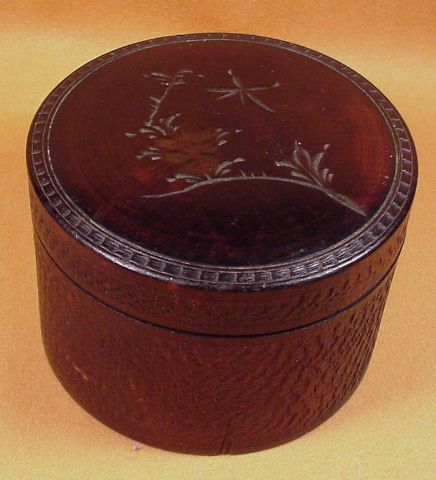 Description
The cylindrical shape of this box implies that it was originally a container for a coaster set. However, it is larger than most coaster sets, so it may have been standing alone from the beginning.

Diameter is 4 1/8". Height is 2 7/8".
Condition Report
This piece is in only fair condition. The too-tight fitting lid has a hair line crack and some water spotting. The box surface has a few small scratches which have gone through the finish to reveal the light colored wood. Also, there is a sliver out of the side, from the bottom up about 3/4 inch. This sliver looks like it happened at the time of manufacture, because it has been stained to match.
Other Views
Catalog #005:

$28.00 ~~SOLD~~
To arrange a purchase for this item, please send us an Email. Make sure to mention the catalog number. We will get back to you to arrange payment and shipping details. Shipping within the USA is included in the purchase price.