~~SOLD~~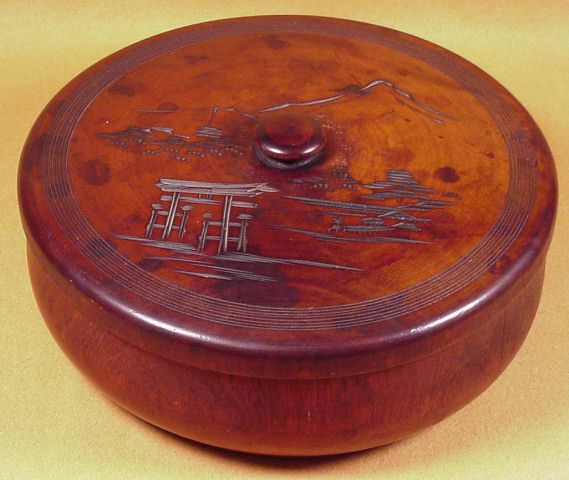 Description
Here's a dresser box where the carver clearly went the extra mile! The Miyajima scene on the top of the lid is masterfully executed. The detail on the torii is beautiful.

Lift the lid to find a surprise... A nicely carved mountain scene on the underside of the lid!

Diameter is 6 3/8". Height is 2 1/2".
Condition Report
There are some condition issues to report on this box. The top of the lid has multiple stains. Also, the lid doesn't really fit on the box in any position. It sits there nicely, but never makes a positive connection.
This box was used to store something sticky which has modified the surface on the inside of the box.
Other Views
Catalog #003:

$40.00 ~~SOLD~~
To arrange a purchase for this item, please send us an Email. Make sure to mention the catalog number. We will get back to you to arrange payment and shipping details. Shipping within the USA is included in the purchase price.