~~SOLD~~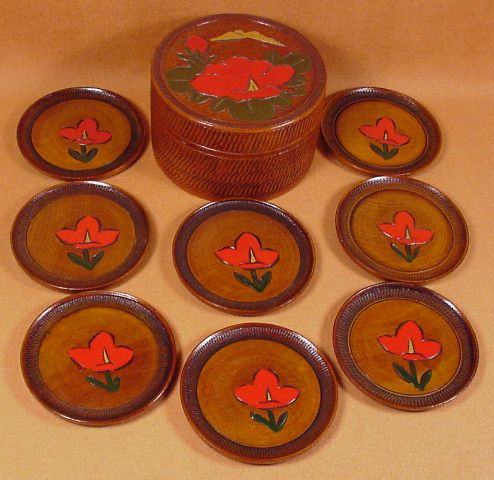 Description
Here's a coaster set with a butterfly and camellia design on the lid, and a single camellia on each of the eight coasters. This set has been varnished on all surfaces, except the inside of the box.

Lathe chatter texturing has been solidly applied to the sides of the box and lid, in a band around the top of the lid, and on both sides of each coaster.

There are gouged dots, on the surface of the lid in the unpainted areas. Diameter is 3 5/8". Height is 2 1/4".
Condition Report
This box is in excellent shape. The lid fits a bit snugly and can't be turned without a lot of resistance.
Other Views
Catalog #002:

$50.00 ~~SOLD~~
To arrange a purchase for this item, please send us an Email. Make sure to mention the catalog number. We will get back to you to arrange payment and shipping details. Shipping within the USA is included in the purchase price.