~~SOLD~~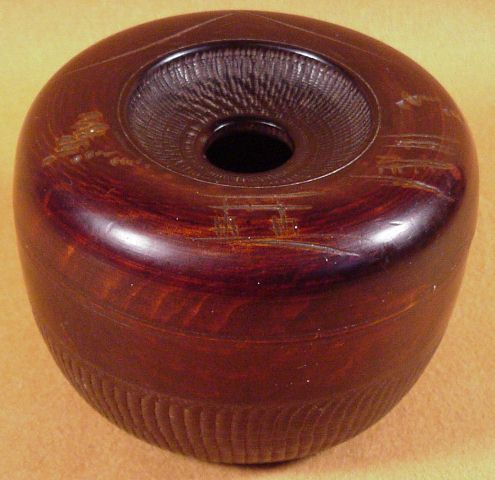 Description
Here's a hair receiver with a carved representation of Miyajima on the lid. The recessed hair depository hole, surrounded by lathe chatter, is a nice touch.

Diameter is 3 11/16". Height is 2 1/2".
Condition Report
This piece is in very good condition. The sculpted shape of the box makes a nice fitting lid a necessity. The lid is a little loose, but it fits well enough that you can't see any discrepancy.
There are some very small and barely noticeable spots of white paint. Also, there is a small chip in the outside rim of the box which is barely visible.
Other Views
Catalog #004:

$65.00 ~~SOLD~~
To arrange a purchase for this item, please send us an Email. Make sure to mention the catalog number. We will get back to you to arrange payment and shipping details. Shipping within the USA is included in the purchase price.