~~SOLD~~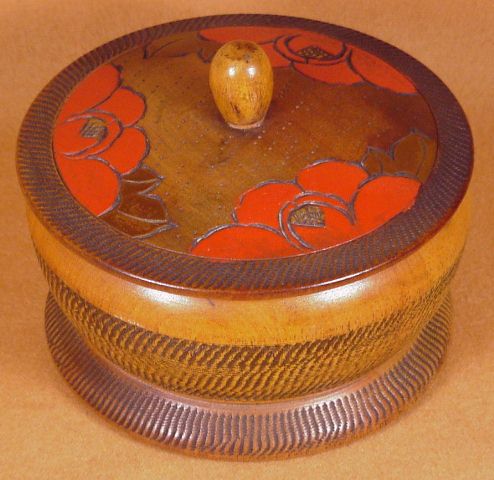 Description
Here's a dresser box with a burned and painted floral pattern, further embellished with lots of lathe chatter on the top of the lid, the side of the box and base, and even on the bottom.

There is a stamped pattern of indented dots, in between the painted peonies on the lid. Diameter is 4&frac14". Height, to the top of the knob, is 3&frac12".
Condition Report
This box is in fine shape. The overhanging lid fits very loosely, but this doesn't detract from the box in any way. There is some weakness in the texturing in the middle of the band on the side of the box. The inside of the box has some surface staining at the bottom.
Other Views
Catalog #001:

$75.00 ~~SOLD~~
To arrange a purchase for this item, please send us an Email. Make sure to mention the catalog number. We will get back to you to arrange payment and shipping details. Shipping within the USA is included in the purchase price.