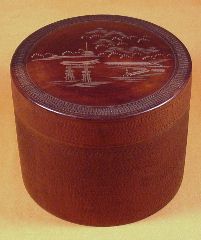 The purpose of this website is to provide a place for sharing information about these beautiful works of craftsmanship.

Although there are a variety of shapes and uses, there are a definite set of common elements which define the genre.

We have documented things to look out for when you evaluate the condition of a box.

The known time span during which these boxes were produced was from 1915 through 1952. We have discovered some interesting facts about the origin of this craftwork.

Selected pieces from our collection are offered for sale.

Your email input is welcome. We look forward to communicating with other interested collectors.